Saturday Night Live alumnas Maya Rudolph and Kristen Wiig outperform the expectations of the bromance The Hangover 2 in the outrageously funny Bridesmaids. According to the NY Times movie reviewer Manohla Dargis, "Bridesmaids," an unexpectedly funny new comedy about women in love, if not of the Sapphic variety, goes where no typical chick flick does: the gutter."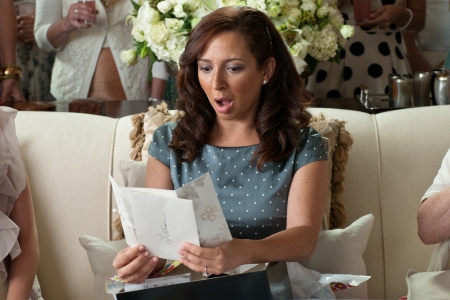 The producers of The 40-Year Old Virgin, SuperBad, and Knocked Up seem to have a special affinity for smart, funny women surrounded by raunchy men. In this case, the women get their turn to be as anti-chick flick as Fight Club… all within the supreme context of feminine achievement, a wedding.
Bridesmaids could also care less about you bringing your kid: It's Rated R.
Much of the smart comic writing comes from Kristen Wiig and Annie Mumolo; however, the comic delivery is unsurpassed by the ensemble cast led by Maya Rudolph, who stars as the bride, Lillian. For those of you who still don't know, Maya Rudolph is the talented actress and comedienne who used to star on Saturday Night Live and is known for her skits featuring imitations of Whitney Houston, et al. She's also daughter of the inimitable singer Minnie Ripperton, and the goddaughter of the late-Teen Marie. She currently lives with and has a committed relationship with director Paul Thomas Anderson (There Will Be Blood, Boogie Nights, Magnolia), and the couple have two daughters together.
Bridesmaids is in theaters now!